Where does my fascination for beauty come from?
I think like most little girls, I have always loved to watch my mother doing her makeup and secretly check on her makeup drawers in the bathroom when she was not watching. I was fascinated by all the colors of lipstick and the differences in the smell of various textures, such as powders and creamy products. Of course the secret discovery missions was not only about makeup but all kinds of beauty products such as perfume, body lotions, hair masks and nail polish.
My fascination for makeup always lay in how it can change your looks, especially for occasions such as carnival. When my mom transformed me into a little lion or a cheeky cowgirl with freckles it has always been a magic makeup moment for me. By the time I got older, my mom often brought huge eyeshadow pallets from her business trips to Thailand and I got hook up on playing with makeup from that very moment on.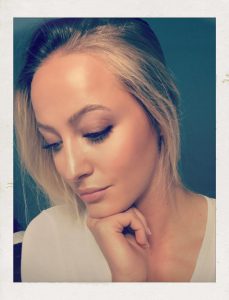 My fascination for skincare started a bit later on. As a teenager I had pretty bad hormonal breakouts, so my mom sent me to a cosmetician once a month. However, I still had some bad breakouts in my early 20's and I really wanted to fix this. Besides my problematic situation, the mother of my boyfriend (a beautiful Italian woman with amazing skin) infected me with her passion for beauty and especially for skincare products. It turned out to be an obsession to research and try new products, checking on ingredients of skincare and searching for dermatological treatments to further support the wellbeing and anti-aging of my skin.
What does beauty mean to me?
Growing up in a very grounded environment of my family and spending my entire summer holidays for 15 years at a campsite in Italy, I have always been a pretty natural girl and think that I kept this ideal upright. Of course I also love to put makeup on, sometimes more and sometimes less, it all depends on my mood and what I am about to do.
For my taste, some people are exaggerating with all the possibilities that we have nowadays to enhance our beauty, such as too much makeup, too much lip fillers etc. From my point of view, less is more concerning beauty enhancers in all categories. I believe, that everyone should get the best version out of him- or herself without becoming a totally different person. Don't get me wrong, I am not someone who is strictly against fillers, botox, surgeries or tattoos – in fact I do support those things, but always at a natural and therefore rather minimal outcome.

What topics will you find in the beauty section?
The beauty section will be about skincare within a more educational approach, supplements and ingredients that our skin needs, skinfood, dermatological treatments, enhancers such as fillers and botox and natural options of surgery and of course about makeup products.
Please help me creating relevant content for you and comment below or message me on Instagram what kind of topics concerning beauty you are interested in.