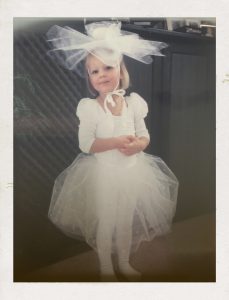 Where does my fascination for fashion come from?
I think this is a family thing from the side of my mother. My grandmother used to be a directrice in the haute couture fashion and was supposed work in Paris for Dior. Unfortunately she had to decline as she just got married at a time when independence of a woman from a man was unimaginable. So she continued to work in the German fashion industry and also worked in an Italian fashion company in Modena after her divorce. Like my gran, my mother used to work many years in the Italian fashion industry, however more in the field of gentlemen's fashion.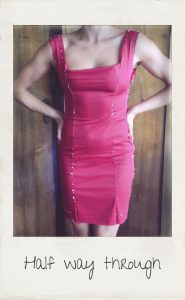 I still remember that my grandmother sew many dresses and costumes for me, my baby dolls and my barbies – still wondering where she got that patience from. There are so many beautiful dresses in the closet of my mother that my grandma made, such as her Wedding Dress with more than 300 flowers that were all attached with precise manual work.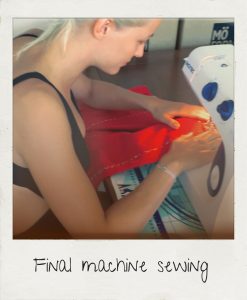 As handmade dresses have somehow been part of my life and I often was disappointed by the low quality of dresses that we nowadays get in cheap and expensive shops, I wanted to find out what it means to produce a dress myself. I think it was in the Summer of 2016 when I asked my grandmother to show me each and every single step of dressmaking. Besides spending a wonderful time with her, I have learnt how hard it is to work precisely and how long it takes to manufacture a simple dress. Since that day I really try not to buy bad or cheap quality anymore, to rather wait and buy something of good value that will also last longer.
What does fashion mean to me?
I personally see Fashion as a tool, like makeup, to enhance the parts of myself that I consider as beautiful and that deserve more attention. It is also a tool for me to express several moods or characteristics of myself – I like to play with different looks as it almost feels like getting a costume right for carnival and slip into another role, another me. I simply love to play with my different facets, like a chameleon. From my point of view fashion means freedom of expressing myself.
Fashion does not mean to me following the industry's ideas and trends religiously, but rather see them as an inspiration to create my own idea for a look. I also believe that someone does not always have to be fashionable and dressed up, especially in everyday situations, as it will also get harder to make a stylistic impression on others for special occasions.
What topics will you find in the fashion section?
The fashion section will be about my favorite fashion brands, newly discovered brands, the varieties of my style, fashion trends but also the unpleasant but from my point of view very important part to speak about fashion, its true costs like child labor, bad working conditions etc.
Please help me creating relevant content for you and comment below or message me on Instagram what kind of topics concerning fashion you are interested in.